Dean Cadwell started Sweet Honey Inc. in 1986 when his sister and brother-in-law, former owners of Mr. Steak restaurants, shared with him about the hassle of cleaning the grease trap in their restaurants and how they wished someone would start a grease trap cleaning business.  This sparked a vision for what would soon become Sweet Honey Inc.  Dean bought his first truck and started knocking on doors offering his services.  Surprisingly, the business began to grow, and grow, and grow.  From 1 truck with a 900 gallon tank in 1986 to 5 trucks hauling a combined 20,000 gallons today, by God's grace, Sweet Honey has become the leading grease trap service provider in all of Des Moines and the surrounding area.
See the progression of trucks through the years:
Sweet Honey Grease Trap and Interceptor Services has over 30 years of experience servicing Des Moines and surrounding areas helping restaurants, gas stations, grocery stores and more  with grease trap / interceptor systems pumping grease and performing regular maintenance.
We send well trained technicians to your site to ensure the finest service and make certain that you are not spending money for services that are not needed. Our idea is simple, we focus on " doing things rights the first time". By employing highly skilled technicians and providing a high quality of service we are able to increase customer satisfaction both by eliminating the cost of failure and amplifying client base through increased customer satisfaction.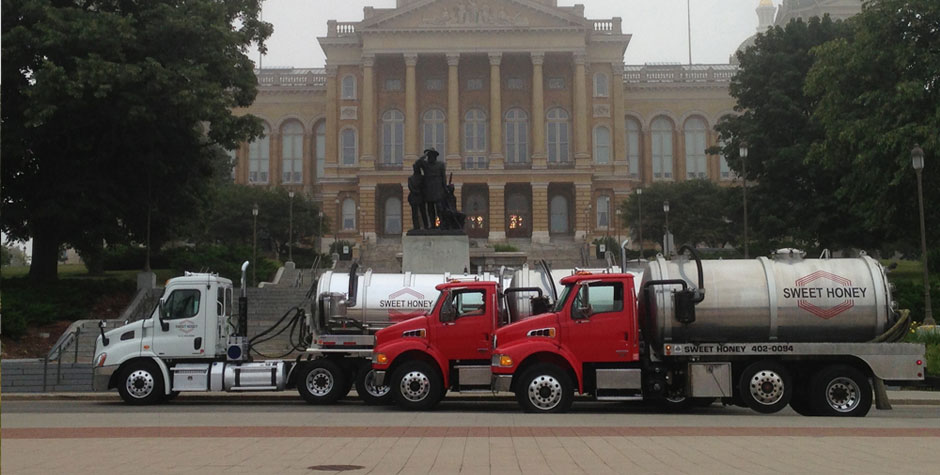 Sweet Honey is environmentally friendly, as we are certified grease haulers by the Des Moines Metropolitan Waste Reclamation Authority (WRA). We seek to carefully abide by all state and city regulations in this regard. We follow the FOG Program implemented by the WRA.